CONVENIENT  –  AFFORDABLE  –  ENVIRONMENTALLY-FRIENDLY
What is Reverse Osmosis?
Reverse Osmosis is the process in which water is forced by pressure against a very special plastic material called semipermeable membrane.  The unique properties of this membrane allow water molecules to pass through while the dissolved mineral salts or total dissolved solids (TDS) and virtually all particulate matter, even viruses, are left behind.
With the exception of distillation, reverse osmosis is the only known process which can remove all the following classifications of impurities:
Particulate Matter
Colloidal Matter
Dissolved Mineral Salts
Organic Molecule
Viruses
The Hicksgas UltroWater 35 system filters water at the molecular level to reduce contaminants, remove odors and improve the appearance and taste of your tap water.
The UltroWater 35 is tested and certified by NSF International against NSF/ANSI Standard 58 for the reduction of:
• Lead
• Arsenic (pentavalent)
• Copper
• Nitrates
• Nitrites
• Barium
• Selenium
• Cadmium
• Fluoride
• TDS
• Radium 226/228
• Chromium (hexavalent)
• Chromium (trivalent)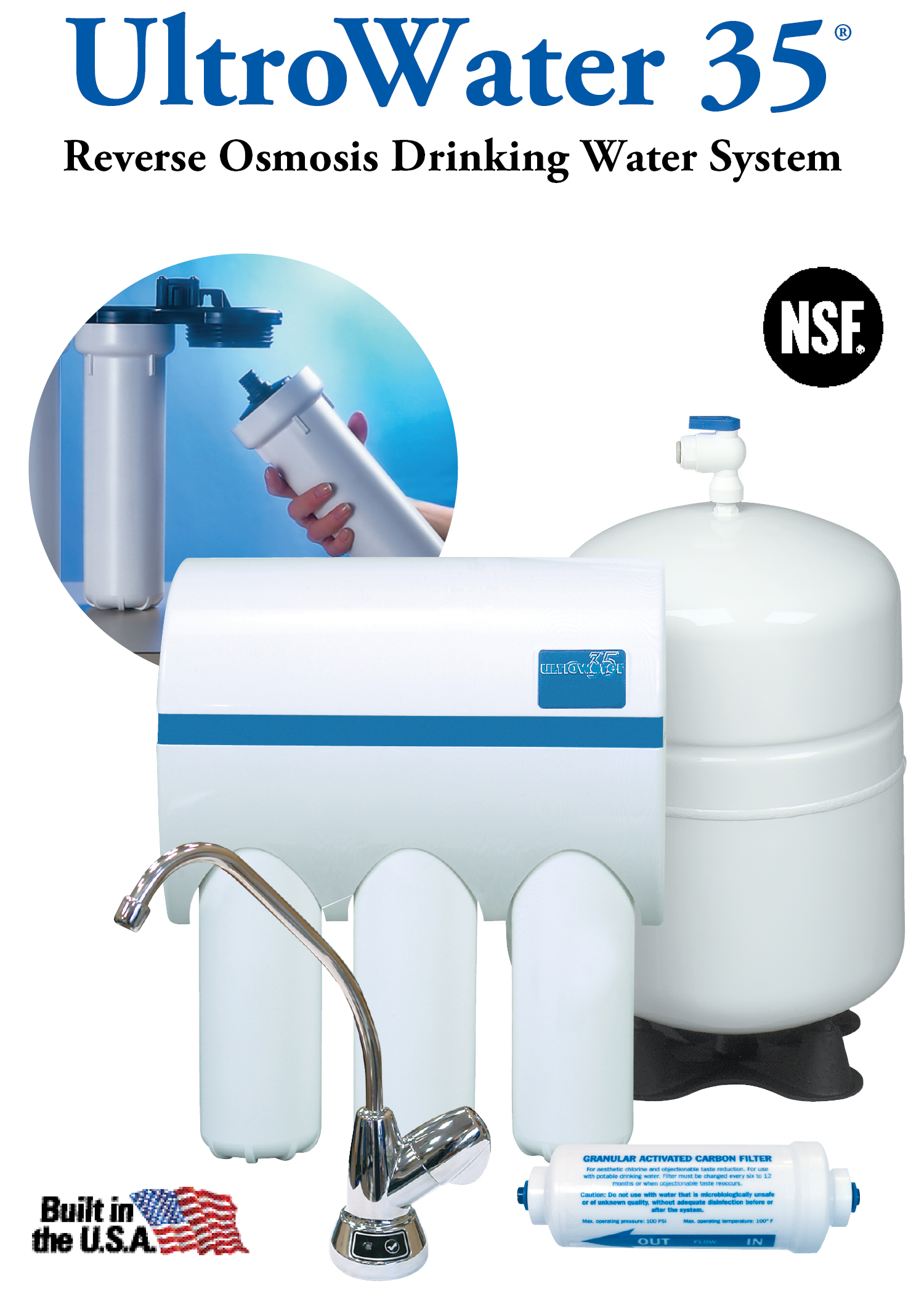 Hicksgas UltroWater 35® reverse osmosis drinking water system offers a convenient, affordable, environmentally-sound alternative to bottled water.
The UltroWater 35 will provide premium quality water for drinking and cooking at a fraction of the cost of bottled water.
• Cost effective – the daily cost of bottled water will no longer be a concern
• Convenient – no more deliveries, heavy containers, storage problems, spills or bottle deposits
• Quick-change cartridges – for easy, no mess, do-it-yourself replacements
• Optional faucets available – to match any kitchen color and decor
FREE WATER ANALYSIS AT YOUR HOME OR BUSINESS!